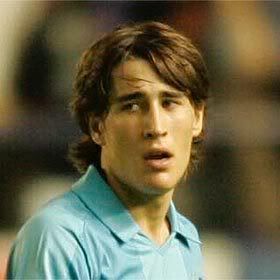 Bojan Krkic
(Barcelona)
Wonderful, rare soccer talent. Experts believe that he will be more successful than Ronaldinho and Messi put together. This young mega star has already achieved a few big things. He was the youngest player to play in UEFA Champions League and he was the youngest Barcelona player to score in the Spanish Primera. In Barcelona's last match he scored 2 goals. He is only 18 years old.

Giovanni dos Santos
(Barcelona)
Another great talent. Possibly the most talented Mexican player ever. Giovanni dos Santos is a very creative attacker that enjoys playing cental attacking midfielder and center forward. Only 18 years old but every matchday this young man is competition to Samuel Eto'o and Thierry Henry for the starting forward.
Sergio Aguero
(Atletico Madrid)
At only 19 years old, Sergio Aguero is one of the leading scorers in the Spanish Primera. Aguero is explosive forward with wonderful dribbling abilities. Definitely a player to look out for in the future.
Miralem Sulejmani
(Heerenveen)
At age 19 this young man is carrying the dutch side Heerenveen on his back. This season he already has 12 goals and 10 assists and is a star ready to shine. Miralem Sulejmani is a natural left winger with ability to adapt to central style of play as well.
Stevan Jovetic
(Partizan)
At age 19 Stevan Jovetic is the most desired young striker in Europe. Scoring goals comes with ease to him. Giant clubs such as Real Madrid and Manchester United are cutting each other's throats to sign this super talented "pure" striker. Jovetic is probably the only great natural striker of his generation and will be a great asset to who ever signs him.